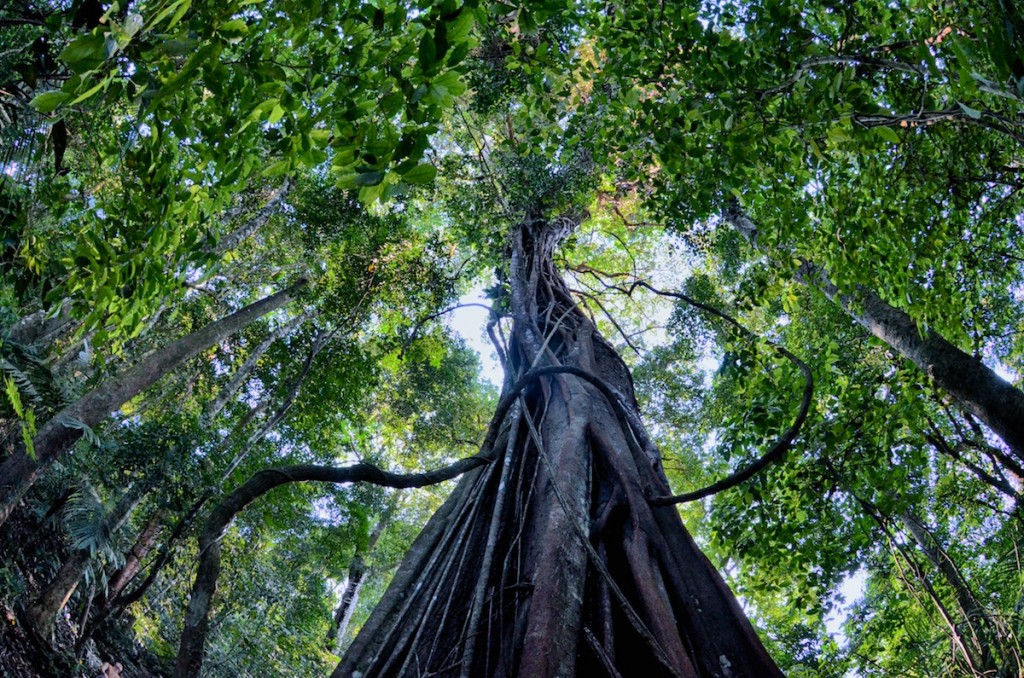 The jungle near the ruins at Palenque, in Chiapas, in green state of southern Mexico, was hot, humid, lush, and an amazing place for photography. It was, in essence, a full-on Discovery Channel-level rainforest filled with amazing, huge trees, lush greenery everywhere you looked, with plants and vines that look like something out of Jurassic Park. The depth of textures and colors in the jungle scenery was incredible. The size of the trees made me feel insignificant, but determined to capture as much of the sense of scale as I could. That's why so many of these photographs are taken looking up. You couldn't help but look up, your eyes were drawn irresistibly up the length of the trunks to the canopy far above. Here the trees grew straight, in a fierce competition for the light. They weren't bare though, as vines encircled them, moving ever onwards in search of the next trunk to claim as theirs. And greenery. Did I mention the greenery? There was every known shade of green here, all constantly changing as the wind moved the leaves and scattered the light in infinite patterns.
The noise of the stream competed with the noises of the jungle, the water pouring in small waterfalls over a short drop to form a cove-shaped pool at the bottom. I spotted a small lizard basking on a leaf, flecked with water droplets. There were definitely more animals and birds here – I could hear them high in the branches of the canopy – but very few of them were visible.
Many people know Mexico for its food, it's beaches, it's culture or its amazing ruins. And while these are all to be appreciated, there is also this side – gigantic towering green trees and the most amazing lush jungle. A jungle that has to be experienced to be believed. Teeming with life, the sounds of birds, frogs, and various insects fill the air to create the atmosphere, while the calls of howler monkeys can be heard in the distance. If you're lucky, you might spot a toucan flying overhead.
As you explore the jungle, you may notice that not far from where you are walking are the what appear to be old stone bricks and even buildings can be made out. These are in fact the ancient stones that once made up the structures and streets of the grand Mayan city of Palenque. The ruins that visitors see today are an astonishing 5% of what once was! Most of the original city of Palenque's pyramids, buildings, streets, and structures still lie buried under dense jungle, covered in centuries of dirt, leaves, plants, and trees. Just along the jungle path I found two obsidian blades nearly identical to the one seen here. Ancient artifacts, essentially! Just poking out of the ground on the side of the path. Showing you that in addition to these jungles being lush and green and beautiful, they also happen to be an ancient archaeological site! One that has yet to be fully excavated. Ancient pyramids. Mayan obsidian blades… This was certainly no forest from back home! For a bit there, I felt like the photographic version of Indiana Jones… 😉
Those drawn to nature will revel in it, as I did. It's most definitely nature on a grand scale! If you're ever here to visit the Mayan ruins of Palenque, you should make time to take a wander a little way into the jungle, too. You won't be disappointed. If you are not sure where to go, not to fear! There are guides who will take you — they all can be found daily outside the main entrance to Palenque. Tell them you want the jungle tour! And ask for Edgar… Really upstanding guy! 🙂