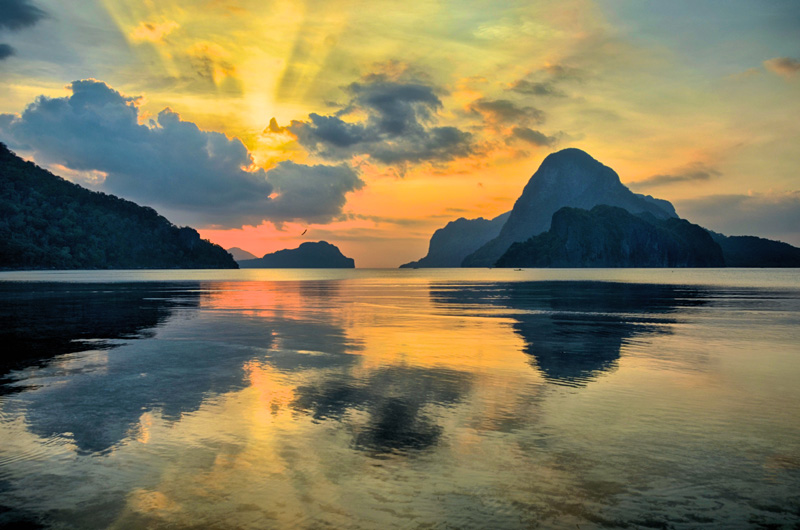 National Geographic ranked Palawan as one of the 20 most beautiful places on Earth. When you visit, you realize why. Blessed with wonderful biodiversity, quiet beaches, and breathtaking landscapes, coming here will give you a whole new meaning to the word paradise. Made up of 1,780 small islands, it is one of the least populated areas of the Philippines. Here you can experience true natural beauty that has escaped development and throngs of tourists.
To say the sunsets here are amazing would be an understatement. There are so many options for composing your photos. Long exposures that soften the water combined with turquoise colors and the rainbow of oranges from the sun create an otherworldly image. Every sunset is different from fiery displays of light against a backdrop of mountains to blues streamed with yellow beams of light.
The main town of El Nido is Poblacion. The town is laid back, simple, and beautiful. Flanked by ancient limestone cliffs and fronted by a crescent beach. El Nido has an ancient history and has been  inhabited by humans 2680 BC. Its remoteness to the rest of the Philippines is what has kept it relatively unknown from the rest of the world. While tourism has increased somewhat more recently much of the area has been put under a protected status to ensure its pristine beauty if preserved. El Nido has at least 50 white sandy beaches, mangrove and evergreen forests, rare birds like the Palawan Scops Owl, sea turtles, and much more. The water is so warm, you could sit in it all day.
The number of viewpoints for photos are only limited by your own imagination. However, some particularly good spots to visit for shots are the Cadlao Island and Bacuit Bay. Bacuit Bay is full of small islands, hidden coves, lush foliage, and towering cliffs. Cadlao Island is El Nido's biggest and home to its highest peak. There are secluded lagoons and nature trails through forests. The magic of all these places will inspire you. A wonderful sunrise or sunset location is Makaamo Lagoon. Found at the end a nature trail the lagoon hugs you in a soul healing silence that will help you find your photographic eye.
Life in El Nido is a place where you can leave the digital world behind ¨C except your camera of course. The lack of internet, and even electricity disconnects you from the ever moving world that seems to forget how to enjoy stillness.